Beginning an Early Childhood Curriculum - Building relationships with your daycare children and their families for promoting their learning!
When you implement an early childhood curriculum in your home daycare, you will be promoting their learning and child development through your everyday routines. A daycare curriculum includes the child, the family and you.
Using an Early Childhood Curriculum Will Help Your Day Run Smoothly!
When you use an early childhood curriculum it will help you make decisions every day that can affect child growth and development as well as help your day run smoothly. The first 3 years of life are critical to a child's development and your role/work as their caregiver is extremely important.
How does this help and what exactly IS an early childhood curriculum???A curriculum is your framework for how, what and why you do things through developmentally appropriate practices. I urge you to attend child care training on these practices so that you are able to:
Learn about each child as an individual
respond to their abilities
Respond to their special circumstances
Respond to their style of learning
How can you begin to create your day care curriculum?
Let's start with your home- the place where you love to spend your time with your kids. You'll want it to convey a message of "welcome" that is warm, friendly, safe and secure to your daycare children and their families. You will be building their trust during these early
Stages of Child Development Also, you will want to plan the areas of your home where you are providing care to be efficient and where you can work in an organized and unhurried way.
Next you'll want to create a Responsive environment for your early childhood curriculum.
Here are some ways you can achieve this:
Creating Trust:
Have your toys and books placed where the children can always find them.
Create a nice, soft place where babies or toddlers can crawl or walk - so if they fall they won't be hurt.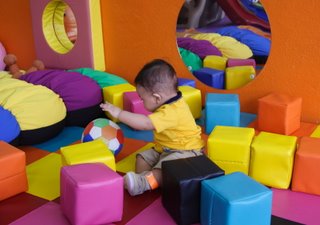 Have your rooms arranged so kids can explore- furniture is positioned so they won't get hurt.
If a child gets sick during the day, you have a relaxing area for them to go until mom or dad can pick them up.
Giving Children a Sense of Belonging in your daycare curriculum:
Have a place for the kids to put their things from home (maybe a cubby or a tote)
Take pictures of the child with their family (or have them bring one from home), laminate it, and display it at the child's eye level. If you laminate it the child can touch it.
Use a message board (I use a dry erase board in my entry way) and jot down things about what you did that day so parents can read it.
Your Home is Comfortable:
Let kids bring their own special blankets or toys that they can sleep with or they can keep in their cubby or tote.
Include cuddly spaces and places with soft chairs, child size furniture and couches etc. (I have an awesome cozy corner, see my toys page.
Provide some areas where they can huddle and feel sheltered.
Also for your early childhood curriculum include several common items, like pots and pans, plastic dishes or containers, and utensils (like tongs, pancake turners, etc.) so the kids can use them in dramatic play.
Your Home is Safe for Exploring:
or locked doors to block off areas that you consider off limits. I have several baby gates blocking our "formal living room" that the kids are not allowed. (It is where I go when I am done for the day- separate from my daycare area).
Use low shelves where you can place their toys so they can reach them easily. Use pictures to label the shelves so they will learn what toys go where.
I Am Here to Take Care of You: (This message is Vital for your daycare curriculum)
Keep your group size small so you can manage and provide special care without feeling overwhelmed.
If you use a changing table, be sure it is comfortable for the baby and of course, safe! Prepare your area so all of your supplies are within reach.
Plan your meals ahead of time. When breakfast, lunch and snacks are served everyday at the same time, it becomes routine for the children and that becomes part of their individual schedule. This will definitely help you in your day care curriculum!
Positive messages in your home daycare setting will be great beginning to your early childhood curriculum. Using these suggestions will get you off to a great start!
The National Association of Education of Young Children (NAEYC) identifies early childhood curriculum in 3 components:
Content: Content are your goals and objectives for the children in your care. You focus on helping child growth and development when you teach children about themselves, about others, about their feelings, how to communicate with others, their thinking skills, and about doing and moving. These goals should be partnered with the child's family as well.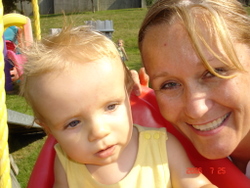 Processes: Processes are what you will do to help children learn in your early childhood curriculum. These are your strategies will be for setting up your home environment- choosing your materials and toys, your interaction with the children you care for and the activities that you will plan. The processes are also the decisions you make in your day to day routine and what activities you'll provide that support children's interest, needs and growing abilities, and culturally appropriate are crucial for proper child growth and development. Having these processes in place will definitely help your day run smoothly.
Context: Context is the setting where learning takes place. And because the majority of children in our daycare homes are under the age of three, our relationships are the context. When we create a strong bond with the children we care for and their families, we are creating an atmosphere where learning flourishes!
When we use an early childhood curriculum based on these principles we are not only building relationships with the child, we are also promoting learning. We are building a strong foundation for child growth and development.
If you have the opportunity for child care training on early childhood curriculum I would suggest "The Creative Curriculum for Infants and Toddlers" – a course that is well worth your time!

Go to the top of Early Childhood Curriculum

Return from Early Childhood Curriculum to Child Care Business HOME - child care jobs