About Me, and why I am here to help you!

About me? Well first I am so thrilled that you are visiting our website! This means that you are interested in the well being of children and/or becoming a family child care provider* and need some help. If you are more interested in just learning how to start this successful business you can dispense with reading this page and get my E-Book. It contains all the help you need to start and run this great home business, you can always come back to our web site with questions. OR Read on below.....

Which is exactly our goal and purpose for this site. I have written pages of information for you and I am confident you will benefit from all of the FREE content.
Let me tell you a little bit about myself and my family...

My name is Julie and I live in a small community in northeast Iowa with my wonderful husband Scott. We have been married for 33 years and have 2 grown sons, Austin (who is married and recently became a father!) and Brenton (engaged, but no date set yet).
I have been a child care provider for what I consider as most of my life. I am from a very large family (one of 8 children) and as early as the age of 11, I was babysitting* with several of my cousins as well as my sister's babies.
What's important here is this- I realized then that I dearly love caring for children.
When our first son was born in 1981 and was critically ill, I knew I wanted to be a stay at home mom with him. We didn't want him in daycare. We needed some extra money because of expensive hospital bills and doctor visits.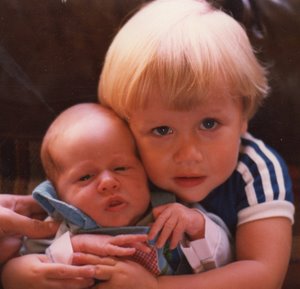 But I really had no clue what to do. So I cared for a couple extra kids, earning a few extra dollars, but nothing like the income I earn now. When my boys were 2 and 4, I worked for a couple of years in the preschool they attended. I was a teacher as well as an aide for special needs children. I learned a lot through my training and teaching there, but the pay was minimal. It was then I made the "smart" decision to go back to family day care* in my home.
In 1989 I became a registered child care provider and, with Scott's help, got my business- Smart Start Child Care- rolling. (I consider Scott my business manager). I have provided care for countless children- infants, toddlers, preschoolers, and school-age. I work 5 days a week for 10 hours a day and make so much more money that I could in an average job. I have days where I am making $30 per hour, minimum wage does NOT EVEN COME CLOSE!

My husband Scott;As I mentioned I consider Scott my "business manager". He has worked at a manufacturing company for 34 years where he is the Manager of Manufacturing Engineering. He's helped me so much along the way in my business- He is the one who came up with the name Smart Start (and that was before the cereal was even heard of!).

Scott supports me 1 million percent every day, both emotionally and physically (he loves to play with as well as help me out with the kids, too). He has the organizational and computer skills that I so sadly lack and he is the brains and the wit of our website. He invented our imaginary "Shirley R. Wrong" character that is scattered through out our pages.

AND without his discovery of SBI, (Site Build It), our website would never have been possible- it is what we built this site with and enabled us to create this together!
Here is a link to SBI, check it out!
Here Are a Few of My Qualifications

- My Years and Years of "hands on" experience as a Child Care Provider*
- I was a Preschool Teacher and Aide for Special Needs Children
- I am Registered with the State of Iowa - at my last home visit I was 100% compliant.
- I am a participant in the Child Care Food Program (since 1989).
- I am Child Net Certified.
- I am a graduate of "Second Helping"- receiving "Family Child Care Specialist" Certification.
- I am the recipient of the "Early Education Excellence Award".
- I am P.I.T.C. Certified Program for Infant and Toddler Caregivers- Taking steps for the quality of infants and toddler care.
- I am Level 2 "Quality Rating System" (QRS) Provider in the state of Iowa
I have had to learn it through doing, taking hours and hours of child development and nutrition classes for the kids, and going the extra mile so I can be the best at what I do!It's my experiences, over many years of caring for children, that has really given me so much happiness and satisfaction that has kept me in this profession.
Here is what I will do through out this site;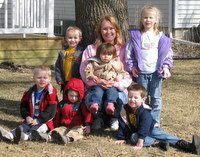 - guide you and provide you with my knowledge and expertise on children, from babies to 5 year olds.
- take you step by step into the child care business and answer any questions you may have about child care and the child care business.
- Teach you things that will get YOUR business going and KEEP it going while keeping down the stress!
We look forward to sharing as much information as we can with you so you will achieve success with your home child care business.
WE WOULD LOVE TO HEAR FROM YOU----REALLY!!! If you have Questions or Input please click here. If its a question you have, we will try to get back to you as soon as we can.
Scott and I would like to thank you for stopping by AND for the time you will spend with us!
* You will notice the terms "Child Care Provider", "Day Care Provider", and "Babysitter" are mentioned several times in our website. They all have the same meaning. I personally prefer the term "Child Care Provider". It shows- in my opinion- professionalism.


Go to the top of About Me


Return from About Me to Child Care Business HOME - child care jobs

Privacy and Affiliate Disclaimer Information
We built this website ourselves with Solo Build It.It was easy, with a step by step video guide! Check it out at the links below.
Copyright 2009-2013
Smart Start Child Care LLC


Solo Build It!--How we built this web site without knowing anything about making money on line or how to build a web page!!

We work from home, check this out for 1 minute and you will see why we can!