Advertising your Child Care Business is the first step to your success!
Now you need to start "advertising" and get your child care business off the ground. It's easy to do, all you have to do is COMMUNICATE TO PEOPLE! Parents are looking for GOOD home providers- so your services are in demand. However, since you are just starting out let me help you get the ball rolling in advertising...
Get in touch with your family, friends, neighbors, church members, (former) co-workers and tell them about your business - don't be afraid to ask them for some referrals. The majority of my clients come from word of mouth.
Parents prefer to have someone refer them to you - kind of takes away the "leaving their child with a complete stranger" fear. Plus this can give you an "edge" over others. And while you're at it, ask them if you could use them for a reference, especially if they are respected in your community.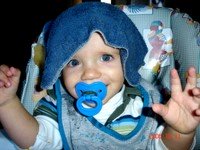 Another way to get clients is through your local Child Care Resource and Referral office. If you do not live in a big town check out the closest city, and find the Department of Human Services, they should be able to direct you. People in your area are searching for child care as well as parents driving right by your town on their way to work in the big city! DHS are the experts and know where child care is needed. Many parents use their services and get a list of provider's names from them. You'll want to be sure to get yours on that list. They will periodically email questionnaires to you for updates on your openings- but the best way is to call and give them your info every few weeks until your child care is full!
If your city has a daycare association or a family child care association you should look into becoming a member. There are many benefits when you get to know other providers as they may give referrals to you when their daycare is full.
I have called our local preschools (that don't take infants- but I do!) and gave them my name and number to share with parents who needed baby child care. Because I am a registered provider most of them will even post my name and number. I did this with the local grade schools as well because years ago I provided before and after school care. And guess what? Some of the parents of these school-age kids eventually had babies that naturally came to me for care- creating job security!
Make your own Ad to post and promote the business.

This is a great way to promote business. If you make your own ad to post, be sure to put bullet points about your qualifications and the positive reasons a parent would consider your services, you want to catch a parent's eye. Consider some or all of these in your ad:
-You're registered
-A non-smoker
 -CCFP Participant (child care food program)
 -CPR and First Aid Trained

-References

-Mother of 2
 -No Pets

 -Or any other qualities that draw them to you.
Include several of your TEAR OFF phone numbers at the bottom with your first name or business name on it. See my sample below...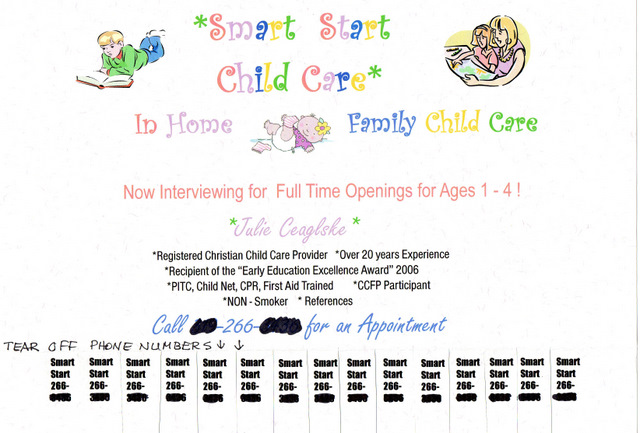 Where to post your advertising

You can advertise in local newspapers. I personally have never needed to do this. I have however created the personalized homemade ads described above many times. I placed them on bulletin boards around our town (where allowed) where parents or grandparents will see them;
Our church (My best results were from here)
Where else do you see bulletin boards that parents will see your ad?

Go to the top of Advertising

Return from Advertising to Child Care Business HOME - child care jobs

Privacy and Affiliate Disclaimer Information
We built this website ourselves with Solo Build It.It was easy, with a step by step video guide! Check it out at the links below.
Copyright 2009-2013
Smart Start Child Care LLC


Solo Build It!--How we built this web site without knowing anything about making money on line or how to build a web page!!

We work from home, check this out for 1 minute and you will see why we can!