Used Playground Equipment and New Equipment.

You can purchase used playground equipment for your home daycare. When you set up your home you are obviously going to need daycare equipment. One place I have found great deals is at garage sales. Garage Sale Academy is an excellent resource for buying and selling used items at garage sales, yard sales and thrift stores. Pick the name brand quality items for 10 cents on the dollar. When you buy new equipment make sure you buy high quality--remember kids are rough on things. I have made recommendations throughout my website for products I use.
Shirley R Wrong bought so many toys for her daycare room from garage sales she lost one of the kids. Finally, they brought in a blood hound from the pound but called off the search the next morning when the child showed up with his parents.

Let's talk about toddlers and some of the indoor playground equipment they will need, keeping in mind the kind of skills they have at this stage. This will give you a pretty good idea of what you will need for them.
They love to run, jump, climb, skip, hop, load things and dump things- and of course you will prefer that they do these kind of things outside!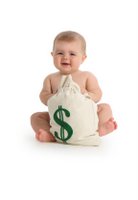 So with all of this enthusiasm, you'll want to focus their energy by providing them plenty of interesting indoor playground equipment. Lots of related information on my Toddler Development page.


Some ideas for Daycare Equipment and Used Playground Equipment are:

- Child-sized furniture for supervised climbing, (possibly) sliding and stepping up and down on.
You can buy these types of used playground equipment at rummage/garage sales, through newspaper ads, from family members, or possibly do a swap with friends or other child care providers.
You could also ask at your local Child Care Resource and Referral if any child care providers are retiring or quitting their business- if so sometimes they will sell their used playground equipment to other providers before they advertise it in a paper. But please be aware if you do buy used playground equipment, inspect it well.
Make sure that it is in good shape- clean with no peeling paint (or lead paint!), no broken or loose parts, or sharp edges. Also be sure it is age appropriate for your group of children.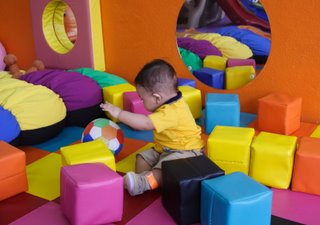 -And for a safe play corner area check out what works great for me and my kids, it is a MULTI-PURPOSE Play Mat - Indoor playground equipment pop-up tents are fantastic for exploration play (then could pretend they are camping and you could provide simple camping supplies you probably already have- cups, plastic plates, small sleeping bags, back packs, child binoculars, old pots or pans). I would suggest you keep these items in a clear, labeled tote for easy access. My day care kids absolutely LOVE to play camping- heck, they love playing in the tents period. What else is great about the tents are that you can easily take them outside! They clean up easily- total FUN!
- Tunnels ( I have some that connect to the tents and they collapse safely for easy storage)
- Set up an obstacle course- challenge them to walk, crawl, roll, balance, climb, and balance something like a beanbag or small pillow on their heads. Put on some fun music while you do this and you'll all have a great time- I guarantee it!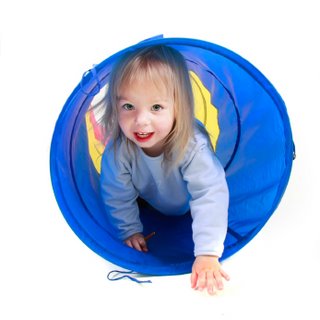 - Larger card board boxes to crawl around in. (A good way to recycle as used playground equipment- and it doesn't have to be expensive!).
- Appliance boxes are a blast! They are sturdy and the fun can last for days. If you take an old shower curtain and protect your floor, you can put the box on top of it and let the kids paint it - or if you are not up for a pretty good mess, they can use crayons to "decorate". You could cut out a door and some windows to make it into a small play house... Use your imagination and ask the kids what you can turn your box into! You are making your own daycare equipment! Hours of fun!!
If you have limited space in your home this can be achieved by possibly rearranging some of your own furniture or temporarily storing some of your things out of the way.
See how easily you can have used playground equipment and indoor playground equipment in your child care home without spending a lot of money! It will help your day go smoother and faster when the kids (and you) are having a good time.
Plus while you are inside, you'll be able promote:
-Large motor skills (burn off some of their never-ending energy)
-Their imaginations- Oh! And yours, too!
Go to the top ofUsed Playground Equipment.

Go from Used Playground Equipment to Child Care Business HOME - child care jobs
Privacy and Affiliate Disclaimer Information
We built this website ourselves with Solo Build It.It was easy, with a step by step video guide! Check it out at the links below.
Copyright 2009-2013
Smart Start Child Care LLC


Solo Build It!--How we built this web site without knowing anything about making money on line or how to build a web page!!

We work from home, check this out for 1 minute and you will see why we can!