In Home Child Care Business. This is the only book you will ever need to start your own business.
You don't have to waste a bunch of money trying to find what works and what does not.
In Home Child Care Business is a fast read, highly condensed book. I have included what does not work, what will waste your time and most important, what makes you profitable and keeps you there!
Hi, I'm Julie Ceaglske- Author and Registered Child Care Provider/ Specialist. Discover my tips and strategies I've learned from over 30 years as a child care specialist.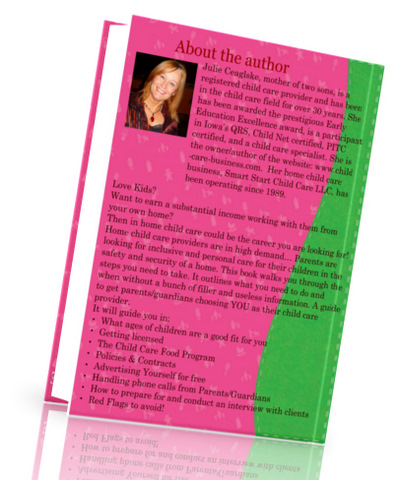 I sub-titled this E-book "A Quick Start Guide" because you do not have to read a 300 page book to have a successful Child Care Business. I have written it without all the useless filler you find in so many self help books. Your time is valuable and I am not going to waste it with nonsense—you need useful, successful, methods and techniques that work—the first time.
Most people start a child care business because they want to make money and stay at home. That is exactly what I concentrate on in the book. You see MOST new providers make so many mistakes that a couple months into their business they quit. Here is what happens;
They get difficult parents
They end up with parents that don't pay
They get stressed out by crying babies
They spend a day in total chaos of loud obnoxious children, screaming, yelling, hitting, biting, etc.
They don't charge the right amount
Their own family can't stand to be in the house while they have other kids there
They take on too many kids or babies all at once
THIS DOES NOT HAVE TO HAPPEN---EVER.
That's what this E-book is about—making you successful, fast and easy.
IF you have been considering a career in Home Day Care and you have asked questions like:
I know how you feel. I was in your shoes once upon a time and had no idea what to do or who to go to for help. All I knew is that I wanted to be a stay at home with my 2 young sons but desperately needed to earn an income. I chose the child care business because of my love for kids and I knew it was something I could do. I had no idea I was so ignorant about the business and what it took to be successful at it.
I also didn't realize how much money I could have been earning – When I look back today at how much more income I could have made (and desperately needed) I get a pit in my stomach! If only I would have had someone to guide me!
This is exactly why I have written this quick start guide for you. I don't want you to go through the struggles that I encountered - No one should have to!
My perseverance to create a successful business with years of experience and training has taught me what you SHOULD AND SHOULDN'T do. I have found that there are hundreds of things you can do to make a tremendous difference in your success and income.
"In Home Child Care Business, A Quick Start Guide"
details everything that I've learned through personal experience (and some of it the hard way) to get you going.
You want to be the choice Parents make for their children's care, right?!
You do not have to reinvent the wheel or make the same mistakes I did when I started out. I have done the ground work for you.
Giving you the basics to get you started NOW so you don't have to spend hours upon hours reading long pages that seem to go on forever about stuff you don't have a clue about? (Gees….Who wants to read a 300 page book to start a business?!)
"In Home Child Care Business, A Quick Start Guide"
will jump start your child care business and get those families coming through your door for care! I use and have tested these strategies in my home daycare. They work for me and they will work for you!
Here is what you'll learn in this E-book:
- WHAT WILL WORK FOR YOU- Helping you decide what ages to accept in your child care home.
- BECOMING LICENSED OR REGISTERED-Why this is so important!
- CHILD CARE FOOD PROGRAM-Why you need to be on it, and what it's about.
- HELP WITH YOUR POLICIES-Policies you need to have in place and reasons WHY you need them. Samples included!
- HELP WITH YOUR CONTRACT-As with your policies you need a contract! I'll explain the differences and provide samples for you to use, or modify to fit your needs!
- ADVERTISING YOURSELF-How to advertise yourself for free and the best places to do it.
- SAMPLE ADVERTISING-Some creative ideas I've used and you can too.
- GETTING READY FOR THE CALLS-What questions parents will ask you and HOW to answer them.
- RED FLAGS!-What you need to avoid and be aware of when you are talking to parents!
- PREPARING FOR AN INTERVIEW- YOU, YOUR HOME, FAMILY AND PETS- Getting everything and everyone ready for when the parents come knocking!
- WHAT TO DO, SAY AND ASK AT AN INTERVIEW-My exclusive list included in this book!
- CONCLUDING AN INTERVIEW
- WHAT FAMILIES ARE A GOOD 'FIT" OR "OPTING OUT"
- PLUS THERE ARE VALUABLE BONUS TIPS THROUGHOUT FOR YOU!
---
Don't you want to get going with your business so that You could be earning $40,000 a year OR MORE? Quite a considerable income compared to the minimum wage $12,000 at a daycare center, don't you agree?
---
"In Home Child Care Business, A Quick Start Guide"
is designed to teach you what you need to know and do to get families coming through your door. LET'S GET YOUR BUSINESS GOING AND MAKING YOU SOME MONEY! $$$$$$
This e-book is loaded with proven strategies, tips, and years of experience that you won't find anywhere else! You can access "In Home Child Care Business, A Quick Start Guide" for only $9.95.
That's it! If someone would have offered me this opportunity when I started all those years ago for this valuable information, I would have paid many times this price!
I think you'll be inspired by this guide - and when you begin using these strategies to get your home Child Care business going, you'll find it's the best $9.95 you've invested in your future- for you and your family.
Please note--this is an e-book not a printed book, that is how we are able to keep it so affordable!