Baby Crib Safety - What YOU NEED TO KNOW!

Baby Crib safety should be your number one concern when you are caring for infants. When you lay the infant down, you'll want to be sure that you have taken every precaution for the prevention of SIDS (sudden infant death syndrome).

Below are best practices for infants under the age of 12 months to reduce the risk as well as preventing suffocation:PLEASE SHARE THESE WITH YOUR DAYCARE PARENTS OF INFANTS!
Always place baby on his/her back in a crib with a firm, tight-fitting mattress.
Do not use fluffy pillows, quilts, comforters, sheepskins, pillow-like bumper pads or pillow-like stuffed toys for baby crib safety.
Think about using a sleeper instead of a blanket. I know this is hard, but it is for the baby's sake.
If you or the parents insist on using a blanket, position the infant with his or her feet at the foot of the crib. Then you may tuck a thin blanket around the crib mattress. Cover the baby only as high as his/her chest.
Use only a fitted bottom sheet specifically made for crib use- don't use a makeshift, loose fitting sheet to cover the mattress that the baby could get tangled in.
Baby Crib Safety- Your Crib Safety Standards and what you should CHECK FOR!

It should have a firm, tight-fitting mattress- Why? The baby could get trapped between the mattress and the crib if there is a space.
If you have other SAFETY concerns please check Child Safety In The Home! There are a lot of areas to cover when making your home and your business safe. These are SO important that I have covered other areas as well;
Child Fire Safety

Child Safety Gates

Toddler Safety


As with the assembly, be sure you have no missing, loose, broken or improperly installed screws, brackets or other hardware on the crib or mattress support. Don't believe these are "nothing to worry about"- that could be a fatal mistake.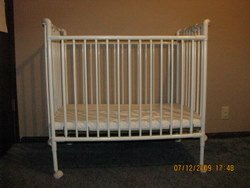 There should be NO more than 2 3/8 inches (about the width of a soda can) between crib slats so a baby's body cannot fit through the slats. Also, look for missing or cracked slats.
If there are corner posts over 1/16th inch high, then a baby's clothing can get caught- NOT SAFE!
If there are cutouts in the headboard or foot board then an infants head could get trapped- NOT SAFE!
FOR ULTIMATE BABY CRIB SAFETY:If you find any of these problems in a bed you currently own, GET RID OF THE BED AND PURCHASE ONE THAT FOLLOWS THE NEW SAFETY GUIDELINES FOR CRIB SAFETY.
Go to the top of Baby Crib Safety

Return from Child Crib Safety to Child Care Business HOME - child care jobs
Privacy and Affiliate Disclaimer Information
We built this website ourselves with Solo Build It.It was easy, with a step by step video guide! Check it out at the links below.
Copyright 2009-2013
Smart Start Child Care LLC


Solo Build It!--How we built this web site without knowing anything about making money on line or how to build a web page!!

We work from home, check this out for 1 minute and you will see why we can!