Toddler Safety Tips, don't skip this important page.
Toddler safety can be a real challenge for you because these little guys are always on the go and seems like they get into EVERYTHING! If you are providing care for this age group, I have some child safety tips to help you check your home and help prevent some of the dangers that you may not have thought about. Child safety in the home is the number one priority for your child care business.
Once you've gone through these tips, be sure to recheck your home - You will inevitably have a little one that has "no fear" and will want to explore and certainly test you! This is a test you do not want to fail! Since we can't dress them in body armor (you wish you could some days!) it is your attention and concern that is critical for this early age. You are their safety role model in your home. They will learn by watching you take these measures, and by listening to you explain why you are doing it. They will imitate you.
Follow these toddler safety tips to prevent as many injuries (and sad to say, even deaths) as you can.
My book has a lot more detail on what things you must do to be registered and make you home safe- Get all the info you need In Home Child Care Business. A Quick Start Guide.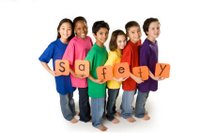 TODDLER SAFETY:
- Go to your local Red Cross or places where CPR and first aid training are held and get certified!
- ALWAYS KEEP THEM IN YOUR SITE,vital toddler safety! OK here is an item that has helped me in a huge way during daily nap-time. My husband installed wireless cameras over each crib and baby bed in our home so that I can watch all of the kids while they are sleeping. The cameras cycle on the TV screen in my kitchen. Then when I don't need the monitor I can switch it back to the TV stations! It's AWESOME! Babies always sleep near me, but now I keep track of the older toddlers every minute. They even have sound! It took him about 15 minutes to install the wireless system. I asked him to find some economical systems to put here for you to check out. Anyway he has tried to put some good choices below....
The one below runs on batteries so you can take the monitor with you wherever you go!
Lorex LW2002W Digital Wireless Baby Monitor
Latest digital wireless technology provides crystal clear color images, day or night. Secure wireless signal cannot be viewed by your neighbours. No interference from other devices in your home like cordless phones and wireless computer networks.
---
This unit hooks up to any TV or PC, its the kind we use. You can get multiple camera units.
Lorex LW1012: Color Wireless Surveillance System with 2 Indoor/Outdoor Night Vision Cameras
Here is what Lorex says about the LW1012: Color Wireless Surveillance System with 2 Indoor/Outdoor Night Vision Cameras.
Lorex Enhanced Wireless Technology eliminates interference from most household appliances and the slim line receiver connects to TV / VCR / DVD Recorder devices in minutes. Enjoy listen-in audio from one of the built-in microphones and the option to have the receiver alternate camera viewing automatically
---
- You can prevent falls and/or things falling on them; As with infants, be sure to secure chairs, tables, shelves, lamps, etc. so they can't pull them over on themselves.
-If you have windows that they can reach, be sure they are screened, open from the top, or keep them closed and locked. If you can't- barricade them.
-Be sure your stairways (stairs, porches, decks, lofts, etc.) have railings- if possible one that a child can reach. If your steps are prone to being slippery, put tread mats on them or carpeting- something non-skid.
-If you are using a high chair for toddlers, be sure they have a wide base (so they can't be tipped over) and always use the restraints.
-Use a safety gate to block stairs or areas you feel are a possible danger.
-Do you have a room that you won't be using for your daycare? You know, like your basement, a spare bedroom, your bedroom, attic, etc? If so,keep these rooms rooms locked when toddlers are in your home.
-If you or your toddlers spill milk, juice, water, etc. on the floor, clean it up right away so no one slips on it.
-Don't let your purse strap or other heavy things dangle over the edge of a counter or table - a little one can pull it down on their head.
-Practice safety rules in your daycare home with the kids. Teach them as they pick up their toys that this will keep them or their friends from tripping over them.
-Have toddler-sized furniture if you can.
-You should NOT have a trampoline.
-Check your outdoor play equipment-is it safe and does it conform to height standards for toddlers?
Toddlers, like infants, put everything in their mouths!
It seems like a never ending battle, and because of this there are some Choking/suffocation and Poison hazards you need to be aware of for toddler safety:
-Do you have toys or objects like marbles, legos, etc that have a diameter of less than 1 1/4 inch (about the size of a half dollar) or have detachable parts? If so they need to be thrown out or put away and NOT USED in your daycare for toddler safety.
-Do not use any straight pins or safety pins.
-Never feed your toddlers whole grapes, hot dogs, & olives. If you feel you must, then be sure to cut them into small cubes- NOT ROUND BITES. Avoid raw carrots, popcorn, pretzels, cough drops, marshmallows, hard candy, gum and peanuts. They can easily choke on these items. Toddler safety should include teaching them to sit while eating and chew their food well.
-Keep all plastic bags and Styrofoam packing out of their reach for toddler safety.
-NO BALLOONS! Remember? They watch and imitate you- you put a balloon up to your mouth to blow it up and that is exactly what they will want to do too!
-Don't use baby powder or talcum powder when diapering or otherwise... it get's into their lungs.
-If you do art activities with your toddlers, keep all of your powdered paint, permanent markers, instant glue, epoxy, powdered clay, or other toxic/poisonous items out of their reach. I would check all of your supplies to be sure they are non-toxic and play it safe- put them out of reach as well.(even safety scissors)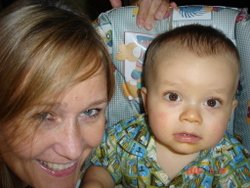 -If you have house or outdoor plants, check with your Regional Poison Control center- (look online or in your phone book). You don't want to take any chances- ivy, diffenbachia, daffodils, and azaleas are just a few that ARE. Teach your children not to "taste" plants, berries, roots, flowers, or anything else (pills, tablets, etc) without asking- this is tough for toddler safety, but you are in control- always watch them!
-Common sense tells us to keep all medications, cleaning supplies, insect poisons, bug spray, weed killers, etc out of reach or locked up. However be sure that all sunscreen, perfumes, and cosmetics, alcoholic beverages, vitamins, and pet supplies are as well. Do not chemically treat your yard, use insect/rat poisons, or weed killer when the kids are present. The Poison control number is 1-800-222-1222 for more information.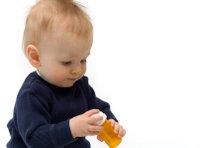 -Check the walls of your home for peeling paint- your furniture, too.
-I avoid purchasing older toys at yard/garage/rummage sales... Some may have been recalled for lead paint.
-Do you have gas appliances? If so you should install a carbon monoxide detector if you don't have one already.
-Do you use a crib for your toddlers? Be sure to remove the plastic wrap on the mattress.
-If you have plastic shopping bags or bread sacks, keep them out of your childrens' reach.
-Do you have a toy box with a lid? If so remove it and any latches.
-If a child wears a hooded sweatshirt with strings, take it off of him or ask the parent if you may remove the string.
-Be sure any drapery cords or mini blind strings you may have on your windows are up and out of reach. I loop my mini blind strings up and around a hook that it near the top of the window.
-Don't allow your toddlers to use long necklaces or scarves or old jewelry (for dress up).
Ways for you to avoid Burns, electrical shock, and fire for toddler safety: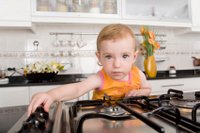 -If you use your microwave for heating their food at mealtime, be sure to stir well and check for hot spots prior to feeding them. Don't use the microwave to heat bottles (if they are still using one).
-Always be sure to turn handles on your pots and pans on your stove out of a child's reach (I use my back burners).
-Be sure all of your electrical outlets have safety caps on them and I barricade mine with furniture or shelving for extra precaution. Sometimes toddlers are curious about those caps.
-Check the temperature of your water heater. You should set it at 120 degrees F (or less). (This will save you $ as well)
-Take a look around your home at your electrical cords- move them out of reach. Also, can the kids get behind your T.V.? If so, move it so they aren't able to. If you have your computer, dvd players, cd players, etc within their reach, move them up high so they can't.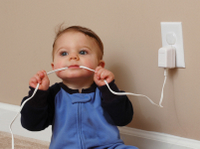 -Another obvious tip for toddler safety... keep lighters and matches out of reach.
-If you have a wood stove, fire place, heaters, radiator, hot water pipes, your furnace, or a vaporizer where the children have access, be sure to use barriers or screens to keep them away. Keep combustible items away from these areas.
-If you use your fireplace, never leave a child alone in the room while in use. This goes for a hot stove, too. (ALWAYS KEEP TODDLERS IN YOUR SITE!)
-Have a smoke detector in EVERY room a child will occupy. Test them monthly and practice fire safety drills monthly. Even little ones can learn "stop, drop and roll". I encourage parents to practice these toddler safety fire drills at home as well. Be sure to have an approved fire extinguisher (keep it in a secure area).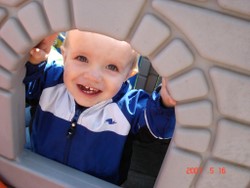 Toddler safety to prevent drowning in your daycare home:
-I do not use a swimming pool of any kind...not even a wading pool- it's just too risky. You hear of way too many children drowning. If you have one, keep it properly covered. If you have a hot tub, be sure it is closed and locked down. You should install a four-sided isolation fence, with self-closing and self-latching gates, around backyard swimming pools - Also, check with your city for specific guidelines. A Pool Alarm is the very inexpensive considering the risk, put one in as secondary insurance.
-In the rare event you would have to bathe a child (nasty overflowing diapers do happen), never leave them unattended. Same goes for water play.
-Be sure your toilet lids are always closed.
-Never leave any water in buckets or ice chests. It only takes 2 or 3 inches of water for a child to drown.
-If you have a well, be sure it is protected and covered- childproofed!
-If you have or are near a pond, never let toddlers play near it.
Toddler safety for preventing Cuts or Punctures:
-Always keep sharp objects out of a toddlers reach... pretty obvious what, but have you ever left a glass bottle or drinking glass sitting on a table? Only takes a couple of seconds for those to become sharp! So are the edges of a aluminum foil/plastic wrap box!
-So here are some of the obvious; kitchen knives, scissors, razors, silverware, cooking utensils, sewing supplies, knitting needles.
-Keep your garage, tool shed etc. locked and off limits- lawn mowers, power saws/tools, snow blowers, etc. TOO many dangers here!
-If you have patio doors/glass doors place a decal at a toddlers level to make the glass more visible. Install safety glass if at all possible.
-Be sure to check and discard any toys that may be broken with sharp edges.
Pets + toddler = safety??? What do you think?
-Personally, I do not believe this is a good mix for a home daycare. It's bad enough when one child bites another- but if it were YOUR dog or cat, parents won't be understanding at all! And you may be setting yourself up for a lawsuit, not to mention your home child care insurance rates will be expensive ... So I am not going to elaborate on these child safety tips.
-Toddler safety in the home is your number one goal and I sincerely hope these toddler safety tips will help you.
Prevention is the key.
You can read more tips about safety for infants here Child Safety in the Home.

Click here to go to the top of Toddler Safety.

Return from Toddler Safety to Child Care Business HOME - child care jobs