Music Games for Kids – Fun Ideas to Use in Your Daycare!
Here are some fun music games for kids that you can use for specific theme days, on rainy days, or whenever you want to change up your routine.

I'll be sure to include what materials/props you'll need and instructions on what to do:
• Puppet Sing-Along
You'll need: Farm animal puppets (purchased or you can make from socks)
1. Give each of your kids a puppet.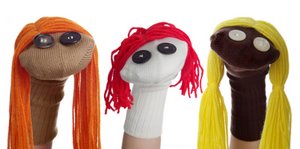 2. Sing one verse of "Old Mac Donald Had a Farm." Then ask your children who has the "duck" puppet (example).
3. The child who has the "duck" puppet holds it up. Ask him/her to "quack" with you all as you sing the song.



• What Are We Doing Now?
No materials/props needed.
1.Have your kids stand in a circle.
2.Choose one child to stand in the middle and perform an action like "twirling."
3.Ask the rest of your children to copy what the child in the middle is doing, and then ask, "What are we doing now?"
4.Help the kids say, "Twirling, we are twirling!"
5.Next sing this song to the tune of "Are You Sleeping?" while the children are "twirling":"We are twirling. We are twirling. Yes we are, yes we are. Now we are done, now we are done. We just twirled, we just twirled."
6.Choose another child to be in the center of the circle to do a different action (like jumping). Repeat till all children have had a turn.
• Ribbon Dance
You will need: large plastic shower curtain rings and long lengths of brightly colored ribbon, several colors – about 3 feet long. Tie 3 or 4 different colored ribbons to the shower curtain. Make one for each child.
1. Give each child their ribbon ring.
2. Play or sing to music (we like "Let's Go Fly a Kite" but any music will do).
3. Have the children wave the ribbons in the air while they twirl it in time to the music. You could use these ribbons for the "What Are We Doing Now" game above.
Speaking of music, there are endless benefits for music kids love. It does not matter if its classical music, Jazz, opera, folk, rock (some), cultural, childrens, kids christian music- Just to mention a few. The advantages are endless for infants, toddlers, preschoolers, and YOU included! They NEED music exposure and education, it affects so many aspects of their development!



Go to the top of Music Games for Kids

Return from Music Games for Kids to Child Care Business HOME - child care jobs