What child care positions, experience, background, or special training have you had?
Now for your past child care positions- We need to put your experience to work during the Parent Interview and even in your Advertising Efforts!

Read this babysitter checklist item carefully...
My Advice:You are probably going to be nervous the first time someone asks you this question- I was. This babysitter checklist is going to make all the difference. Don't be caught off guard and ramble on when they ask- like I did. It was embarrassing, and I'll never forget that!!! Have a short resume-type experience* sheet typed out and keep it near your phone so you are ready for calls.

What is your experience?... Grab some paper and list what fits you for your cheat sheet! I worked in a child care center once and experience wasn't on their child care center checklist!
Have you worked anywhere in which you provided child care of some kind? Make sure to leverage these child care positions:
Have you worked in a preschool, nursery at church, taught school/Sunday school, taken care of family member's kids, volunteered where you were involved with kids, babysat when you were younger… etc. If you have, how long? What kind of things did you do with the kids, or what were your duties? These are AWESOME qualifications for child care positions!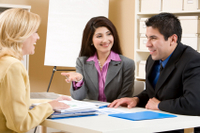 If you are a mom, how many kids do you have and how old are they? Do they have any special needs that have given you extraordinary child care experience? What kind of day do you currently spend with your own children-think about what your routine is with them. This is exceptional experience for parent interviews.
What kind of things do you enjoy doing together such as: Cooking/baking (letting your child help), walks, encouraging exploration- both indoors and outdoors, bicycling, crafts, board games, inventing and playing games, going to the park, going on neighborhood walks- if possible, the beach, the pool, reading books, the library, museums,dancing, singing, listening to music, playing instruments, napping, pretend play (dolls, cars, trucks, ride on toys, phones, pretend food and dishes, dress-up clothing, play make-believe, water and sand play, playing ball, gardening, camping, fishing, hobbies that provide educating and fun life experiences. (If your children sit in front of the t.v. or on computer games all day with little interaction with you, I would not provide this information and you may want to rethink becoming a child care provider, this is not conducive to child care positions.)
---

Our friend Shirley R Wrong has so many of her own kids that she has to ask the parents which kid is theirs so she doesn't send one of hers home with them! We don't know if she is just trying to get rid of them or she just can't keep it straight.

---
You have had some GREAT child care positions if you worked in a preschool or daycare center; What was your position there and what activities did you do? How many children were you personally in charge of? Why did you leave there (they will ask). How many days, months, or years did you work there? Who was your supervisor (Could you use her/him as a reference?) Same kind of answers for a church nursery or Sunday school or volunteering. How many years have you helped out and for what ages? Did you have to plan any of the activities? Is there someone there that you could use for a reference as well? Do you have a copy of the child care center checklist?
Did you ever babysit when you were younger? If you did- for what ages, and how many at a time? Did you do this routinely or occasionally? For one family or several families? Were they relatives or friends or what? Again, is there anyone here you could use for a reference? What kind of experiences babysitting do you feel will help you as a child care provider? Playing and interacting with the kids does count as quality experience- sitting in front of the t.v. or talking the phone does not.
If you have had any of these child care positions use them for your Parent Interview."

Return to the top of Child Care Positions

Return from Child Care Positions to Child Care Business HOME - child care jobs